So as you already know, Samsung uses two different
chipsets on their phones. One is their own inhouse Exynos chip and the other one is from Qualcomm the Snapdragon chip. It depends on the region which chipset you'll end up getting.
Snapdragon vs Exynos
Historically we've seen the Exynos chipsets tend to perform better than Snapdragon except in the GPU department where the Adren GPU from Qualcomm is way better than Mali from Exynos. But what we're seeing from a couple of years is that the Snapdragon SoC is taking a lead not only in GPU but also in the CPU department as well.
It's been confirmed in many of the speed tests, In particular, the speed test between the Exynos and Snapdragon variants of the Galaxy Note 10+. As you can see the Snapdragon variant beats the Exynos by a massive 20 seconds.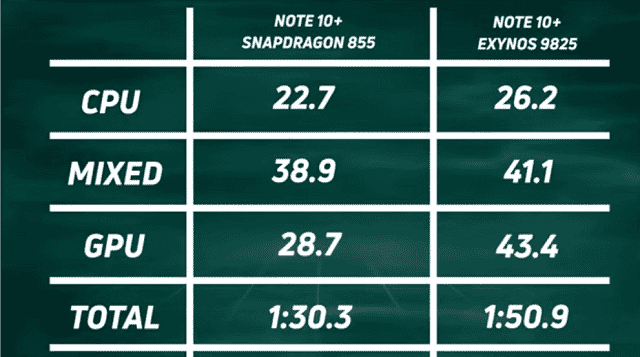 What was surprising to me was that in the CPU test, an area where the Exynos tend to perform better than Snapdragon, the Exynos still fall behind by almost 4 seconds. And it's been happening for a couple of years.
But thankfully though, it looks like all of these will change with the upcoming Galaxy S11. Samsung will use the Cortex A77, the same one that Qualcomm is going to use for the Snapdragon 865. So that means the CPU architecture of both
the Exynos 9830 and 865 will be identical, so the Exynos 9830 should perform equal to the Snapdragon 865.
In 2010 Samsung founded a design center in Austin called Samsung's Austin R&D Center where they hired many ex-AMD, ex-Intel, ex-ARM, and various other industry veterans. So firing them would mean Samsung will no longer use custom M4 cores and will directly use ARM's architecture just like Qualcomm does with their Snapdragon chipsets.
If this is true then there won't be any performance difference between the Exynos and Snapdragon variants, which is good for us consumers. Now, the only thing Samsung needs to do is to get rid of the Mali GPU which will happen by the way. But not with the Galaxy S11.
Samsung and AMD made a deal already but Exynos chips with AMD's Radeon graphics will only come to fruition in 2021.